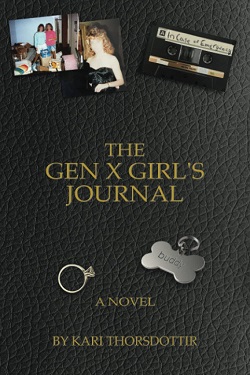 As the girl and I headed off to our 40th high school reunion at the end of last month, I needed a book to read on the trip. I picked The Gen X Girl's Journal by Kari Thorsdottir, which had been on my reading list for a while. It seemed appropriate since we are both Gen Xers, born around the same time as the book's author. Based on the book's cover, I expected something like a memoir about the Gen X young adult experience, full of trenchant social observations and pop culture trivia. That's what you expect from my generation.
What I got instead was a novel that very directly and subjectively describes the life of a woman named Annika, from her freshman year in college in 1985 all the way to current times, ending in the year 2019. It is somewhat of a conventional life – Annika joins a sorority in college, graduates into a white collar career, marries and has two sons, and struggles with balancing family life and work life. There are a couple of story arcs that achieve closure by the end of the book, which finishes with her 30th year college reunion, but for the most part the narrative just goes through the paces of an ordinary life, up until middle age.
The writing lacks literary embellishment, simply describing events and the characters' thoughts and emotions from a third person perspective. It sometimes dwells on specific events, and at other times skips years in a single paragraph, reflecting how we typically recall our lives. Some moments stick with us, even as the years fly by.
I enjoyed the read, even though the story is so basic. I mean, I've read other memoirs of Gen X women born around the same time as me. Some have led more interesting lives, like commercial jet pilot Laura Savino; while others, such as professional writer Sari Botton, write with more literary flair. But in its unassuming way, Kari Thorsdottir's book drew me into Annika's personal experience, with all the intimacy of a journal or diary. I couldn't help but wonder if it was based on the author's own life, even though it purports to be a work of fiction.
As was the case with the other memoirs by Gen X women that I have read, I found that despite the significant differences that come with being a man, I still recognized and could easily empathize with Annika's life experiences. She tread territory that was familiar to me, since she was born at the same time as me. That's what it means to belong to the same generation; you share the same course through history. Anyone from my generation – man or woman – could easily see a part of themselves in Annika. And anyone from any generation would gain a better understanding of the Gen X life course by reading this book.
Here is the author's link tree if you want to get a copy- https://linktr.ee/genxgirlsjournal