The Quiet Rage of Millennial Retsuko
I recently finished watching Season 2 of the Netflix series Aggretsuko, which I recommend if:
You like anime.
You need a show with short episodes to watch during meals or whatever.
You want to see a show that captures the Millennial zeitgeist.
Yes, I really do think this show does the last thing on the list, which is a big reason why it fascinates me. Plus, all the anthropomorphised animal characters are just adorable.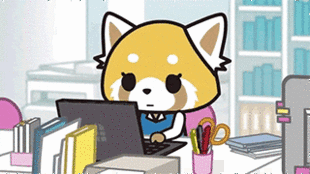 Aggretsuko is an anime, full of the tropes of that genre. You have to watch it in Japanese, with subtitles. It's main character, Retsuko, is a young single woman working an ordinary office job. She is self-conscious, anxiety ridden, stressed by the demands of everyday life, and feels pressure to fit in and appear normal from her peers and social media – in others words, a Millennial. She remains calm – if nervous – on the outside, while cultivating an inner rage that comes out in private moments.
It's not only the peer pressure and the burnout that make Retsuko so Millennial. As her story develops and she grows as a person, she is able to adapt to the many aggravations coming from the personalities that surround her. She matures, and learns to own her rage, while remaining true to herself. And what she learns about herself is that she just wants a conventional life.
Aggretsuko is loaded with references to modern pop culture and social trends. It satirizes modern life, but there is no nihilism here. In the end, the ordinary aspects of life – a job, a family, friends – are celebrated and valued. And when Retsuko rages, she doesn't rage destructively to take down society, but rather constructively to find her place in society. Now how Millennial is that?