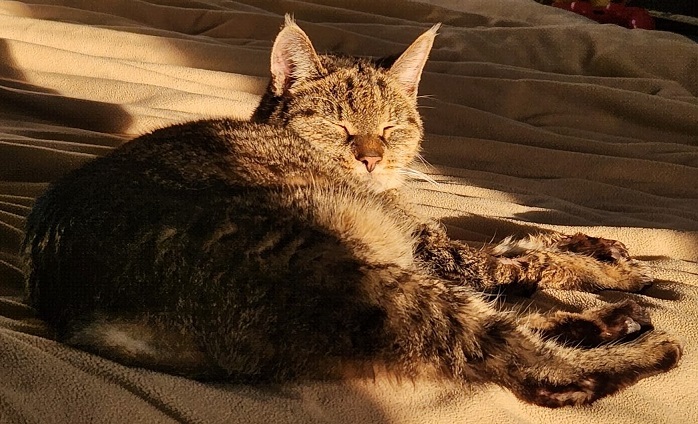 Our sweet kitty, Princess Sashimi, pictured here basking in the sunshine, has been diagnosed with cancer. She had been drooling a lot, and having difficulty eating, and when we took her to the vet we found out she had something on her tongue. Antibiotics didn't take care of it, and a biopsy revealed that it was indeed cancerous. 🙁
The vet says it's just a matter of time, and we are giving her all the love we have. She has an anti-inflammatory which seems to be helping a lot, as she has been able to eat. We've been giving her baby food (chicken is her fav) and also pureeing meats that we prepare for ourselves. For example, she ate an entire fish stick once it was stripped of its breading and mashed up real good. She's been regaining her appetite and her energy, which are good signs.
It's just a matter of time for all of us, of course, but this sweet girl is pure love and we want to keep her with us for as long she'll allow. So we keep sending her the good reiki energy and letting her know how much we love her. She really is the center of our domestic bliss.
Our new cat care routine, plus the fact that I am now jobless (I fell off the "overemployed" wagon pretty hard), means a big shift in 2023. Since things always happen in threes, and it's still early in the year, I can't help but wonder what new shock is coming. Best to enjoy the sunshine while it lasts.