What do you do when you want to play a board game, but your BFF who plays with you has gone away on a trip and left you home alone?
Why, you play board games solo, of course.
And no, I don't mean playing a board game on your computer. I mean actually breaking out the physical game that comes in a box and setting it up on a table and playing a complete game. Not playing a pretend game where you are taking on the role of more than one player, but rather a single player game, with rules specifically designed for one player.
There are many multiplayer board games that have rules variations for solo play. In some games there is a goal, and you win or lose depending on whether you achieve it. In other games, you just play, calculate your final score, and then get ranked based on that score. Some games come with an "automa," which is a set of special rules and usually a deck of cards to simulate an opponent taking actions on the board.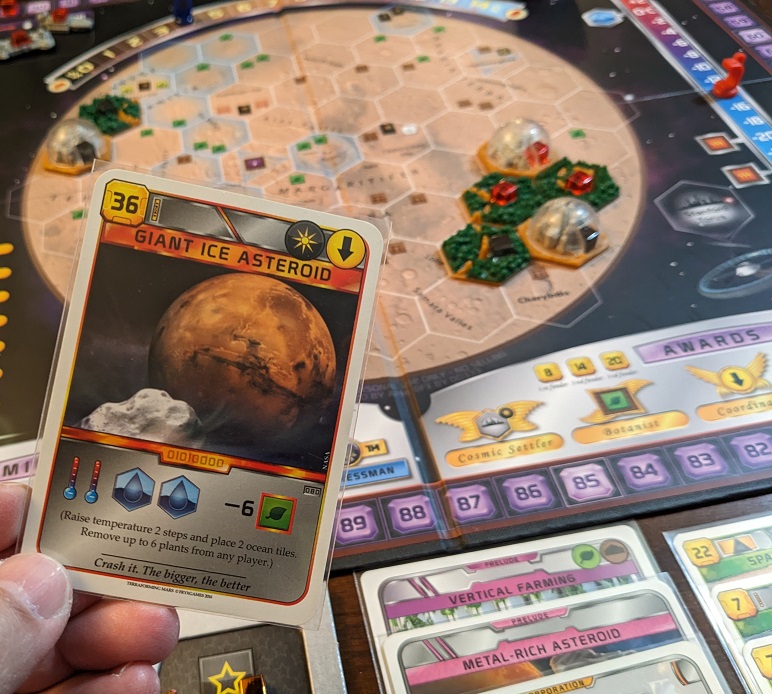 Others, like my favorite, Terraforming Mars, just give you a challenge. You play the game as the only player and try to reach a certain game state within a fixed amount of turns. In the games I've played this week, I am trying to reach a certain score within 12 generations, showing how good I am at terraforming.
Is playing a board game by yourself really any fun? Well, yeah, if you are as much of a game addict as I am. You get the same challenge of figuring out your optimum strategy, the same tension as you're not sure if the next random card draw will be in your favor or not, or if you'll be able to achieve the game's goal by the final turn.
And you get the same visual and tactile pleasure of working with physical components, which is why it is better playing on a tabletop than playing on a computer screen, even though it takes time to set up and break down the game. I feel the same way about multiplayer games, and there you get the bonus of face to face social interaction. And truthfully I would rather play a game with others than play a solo game, if the option is available.
But when it isn't, a solo game will do. I'm not the only one who enjoys solitary board gaming, either. There's a whole community out there; you can find them on social media sites and board game forums. It's enough of a thing that there are articles about it, with recommendations of games to play when it's just you and some time.
So if you find yourself hankering for a board game when there's no one else around, see if any of the games on your shelf include solo rules. You just might find yourself enjoying solitary gaming as much as I do.