This is where I went to watch the solar eclipse, up in the mountains in North Carolina.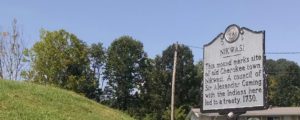 I didn't take any pictures of the actual eclipse, just enjoyed it as it happened. I was in the path of totality, but not the center line, so it became dark like twilight, with sunset colors at every degree of the horizon.
Now I am back at my house in Cary, which has *almost* completed reconstruction since the water leak. Just a few little things left. And all my possessions are returned, but still in boxes. So feeling like I am at a crossroads. Going to give it a little thought, with this astrology article in mind.