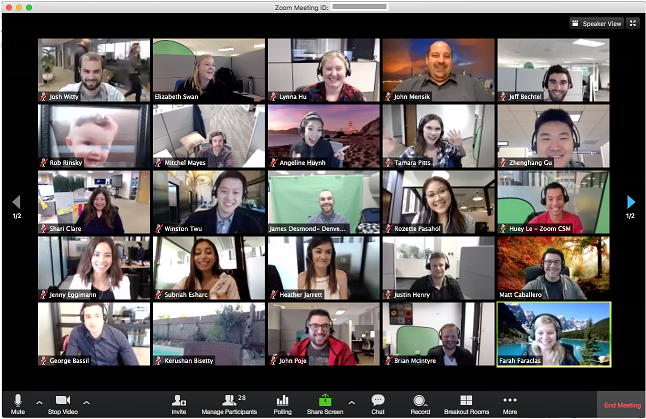 It's been six weeks in lockdown. Except for cashiers at the grocery store and a few curbside pickups of take out food, I haven't interacted face-to-face in real life with anyone other than family. But that doesn't mean I haven't socialized. Like many of us shuttered in at home, I have videoconferenced – both for business and pleasure – using the software that has suddenly taken over our lives: Zoom.
So far I've attended a couple of hangouts with old friends, one of which was a surprise birthday party. I've been to happy hours with my work colleagues – and yes, we are welcome to have a drink. It's nice to see the faces of my coworkers after a week of working online from home. I've also particicpated in a couple of script-readings for the eldest son's script analysis class (put together by his attentive mother), including one where we were Zoombombed by professional actors.
Ok, we weren't really Zoombombed, because the participants were invited. Ok, at work we actually use different software. I just mean to stick a label on this phenomenon where our socializing has abruptly moved into the digital space, as the Internet proceeds to the next phase of its complete takeover of our lives. We're all Zoomers now.
It's been fun figuring out the finer points of Zoom. Gallery view is best for a general conversation, but active speaker is good for the script reading. If you have a lot of participants, you can scroll through them to catch late arrivals, and make sure they get welcomed. And don't forget about the chat option!
I do find that an online video hangout satisfies the need for social interaction. It feels like a change of scenery, and it alleviates the cabin fever. Good thing, because we don't want this Sim's mood to drop too low. Now if I could just get my virtual background to work…