My life (so far) in the IT crowd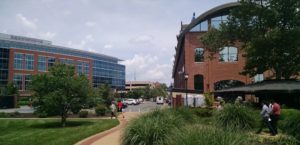 Last spring I posted a little recent career history. This was when I lived in North Carolina, and worked at a corporate campus nestled in a lovely wooded area in the famed Research Triangle. I ended the post with the hopeful expectation of more corporate campuses in my future. It's been over a year now, and I have moved to Pennsylvania and have a new gig – in Wilmington, Delaware of all places – reportedly an up-and-comer as an information technology hub.
I don't work at a campus, but rather in a shiny blue office building on the city's touristy river front. It is also a lovely work environment, although there are not nearly as many nearby conveniences. The location is a strange kind of wasteland of office buildings, overpriced restaurants, and parking. But undeniably it is delightful to step out to the river front on a beautiful day.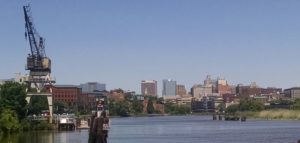 My coworkers are, once again, mostly from India. Actually, the percentage here is much higher than at my last position – probably 90% of the IT staff. No sign of "Hire American" here, though perhaps those visa reforms don't apply to my company or industry.
And, once again, I am working as an IT contractor. I started contracting in the late 1990s, after finding that "full-time" positions in the boisterous dot com era tended to be short-lived. Of the past twenty years, only a few have been spent working as a full-time employee instead of a contractor, and that has happened only when my position was "converted" from a contractor position. This is a mark of prestige in my business, sort of like being made (not really).
My contracts are generally through an agency, which means I am paying payroll taxes, and often have some access to benefits. The contracts tend to last between 1 and 3 years, and then I am looking for work again. I do enjoy at each new position the opportunity to meet new people, learn new workflows and processes, learn about a new type of business, and experience a company's particular work culture. It can be a bit stressful adjusting to the new environment, but it is also exciting and satisfying when I learn the ropes and prove myself.
It is also stressful when the job search phase begins again, especially now that I am middle-aged and worried about age discrimination, but I'm not sure that being full-time versus a contractor would make any difference, since full-time positions are eliminated as surely as contracts come to an end. The main disadvantages of contracting are not receiving paid time off, and having to pay more for health insurance. For the latter issue, I have found the Affordable Care Act very helpful. For the former issue, judicious saving is required.
Way back, in the 1990s, the rise of temporary employment was decried as a deprivation of worker's rights. Perhaps it still is, part of an overarching trend toward greater corporate power at the expense of the people. Or it could be thought of as part of the free-agency style that my generation brought to the workforce in young adulthood. In my life, a career of many short stints has served me well, but that could be because I am in the field of Information Techonology. It might not be so easy in other lines of work.
With more years behind me than ahead of me, I imagine I don't have too many more stints left. But who knows what the future will bring.