A slow noir sci-fi show that's perfect for bedtime
If, like most of us in this day and age, you enjoy a good binge watch of streaming video entertainment, then I'm sure you are familiar with this pattern: you start to watch an episodic series, and you get pulled in. Each episode ends with a plot twist or cliffhanger and when it's over your appetite is whetted, and you can't help but watch the next episode. Before you know it, it's after midnight and you are regretting staying up too late yet another night in a row.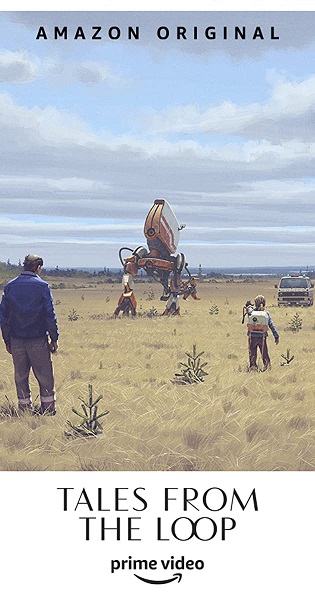 If this is a problem for you, then you might be interested in checking out this show that my BFF and I recently finished. It's called Tales From The Loop. It's an anthology sci-fi series, and it is *so* slow paced that getting through an episode is like a slog through a swamp.
That's not to say it's a bad show; it has interesting stories and characters, and a really cool retro 1970s aesthetic. It's contemplative and sad and a bit dark. The episodes make me think of Ray Bradbury short stories; they are thoughtful and personal, using sci-fi as a background to tell a story that is ultimately human. Interestingly, Bradbury had his own anthology TV show, but unfortunately it wasn't that good.
Tales From the Loop also reminds me of an earlier sci-fi show that had a similar premise – that somewhere in America there's a small town where all kinds of secret weird science research is going on. That other show was called Eureka, and was more of a fun adventure series with slapstick comedy. Tales From the Loop is serious and dark, which fits the current social mood and the new noir age in film and television.
What's great about the slow pace of the show is that by the time an episode ends, you will be ready to go to sleep. That makes it perfect for watching at the end of the evening when you just want a little entertainment to wind your day down, and don't want to get caught up in binge watching. I think it deserves its own subgenre name, to cover the fact that it is both quiet and contemplative, as well as dark and despairing. Let's call it calme noir.
Tales from the Loop is available on Amazon Prime. I hope you enjoy it as much as we did.