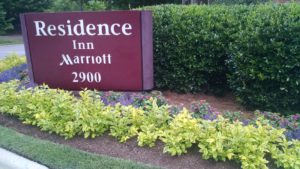 The ongoing saga of my encounter with the water spirits continues. My house is asbestos and water-free, but not tenable. While the insurance company takes its sweet time approving the repairs, I am domiciled in a residence hotel, in a cozy little one bedroom suite with a kitchenette. It's turning out to be a life I could get used to.
Breakfast is free every morning, and each day someone comes and washes the dishes and makes the bed. So with a smaller space and maid service, I am freed from the drudgery of chores.
My bestie has come to visit, and we have made a number of excursions to places near the hotel. Our first was to a Cinebistro to see Wonder Woman. This venue is a sort of luxury movie theater, with good drinks and food served, and, astonishingly, no ads showing while you sit in your reclining seat waiting for the movie to start. A nearby taco place turned out to be similarly upscale.
The real treat was discovering that while at the hotel we have a pass to a Lifetime Fitness that is within walking distance. This is a gigantic fitness center with multiple pools and a huge floor full of fancy exercise equipment with touchscreen controls. With monthly fees four times the amount, it puts the dive fitness center where I am a member to shame.
The hotel is not too far from my all but abandoned house, where apparently an upper-middle class commercial mecca has existed of which I was unaware. It's newer development than my neighborhood, and on the leading edge of a consumer trend toward higher quality services and experiences over commodities.
So now it feels like I have been cast from home and marooned on the shores of affluenza. With the insurance covering the hotel bill, I'm not sure if the water spirits were punishing me by trashing my house, or offering me a free spa vacation.
I know this is all going to come across as bragging, but it is where this bear's life is at. Curiously, my personal trajectory has been on the up ever since the financial crisis. I am in a natural place, I suppose, for a lucky man at the peak of life.