This post is about a long vacation taken with my dear friend Aileen, which included a road trip to Chicago and then a four-day weekend in New York City. We did so many things in two weeks that I am calling it a "craycation" – the opposite of a staycation.
For the trip to Chicago, we rented an SUV, since we were transporting ourselves, three boys, and a large kaiju costume. Why, you ask? We were on our way to G-Fest, the world's largest gathering of Godzilla and Japanese monster fans! I have to thank Aileen for letting me share her kids, since I don't have any biological children, but believe that it is fitting in my stage of life to assume some sort of fatherly responsibility for the next generation.
Well I was certainly given that chance, and it was a test of my endurance and my tolerance. It's a challenge for me to be in a family because I have been alone for almost all of my adult life. Part of the logic of renting a full-sized SUV was knowing we would all be in close quarters for a week and could use the extra space. When the kids asked about its fuel efficiency I said, "It gets 'Murica miles per gallon!"
We drove to Chicago via Pittsburgh and Cleveland, stopping at no fewer than four different museums on the way. The first was Fort Pitt in Pittsburgh, because I like history – so get you some history, boys!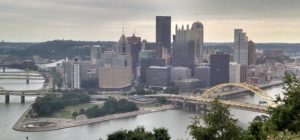 There was also the Living Dead Museum in Evans City, where George Romero's Night of the Living Dead was filmed, including a visit to the cemetery where the first scene was shot.
In Cleveland we visited the Rock and Roll Hall of Fame, which is a lot of fun, and if you could make only one of these stops I would recommend this one. As we got closer to Chicago, Aileen discovered this place in a brochure at a rest area, and it became our bonus museum.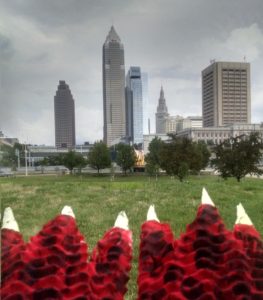 Once we got to G-Fest, Gavin joined us by plane. Then it was three+ days of monster fun, including movies, art, action figures, our second annual victory in the Kaiju Assault tournament, and of course the costume contest.
The return to PA was accomplished in an epic 13-hour drive in one day, made easier by the audio book of Watership Down. But there wasn't much time for rest for Aileen and I, as we next drove to New York City to attend a Broadway teachers' conference. This was for her work, and I was attending for companionship, learning, and to see some shows!
There were workshops, including learning dance moves from one of the dance captains from Hamilton, and other kinds of educational workshops which were new to me, although old hat for Aileen. There were talks and chances to learn about what life is like for professionals in the Broadway world.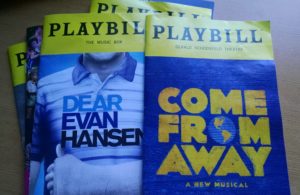 And then there were shows, the two best of which were Dear Evan Hansen and Come From Away. Oh, and let's not forget a stop off at Madame Tussauds. 🙂
And just like that two weeks are over and this exhausted bear has to get back to the grind. Five museums, two conferences, seven stage shows and three movies later the bank account feels starved.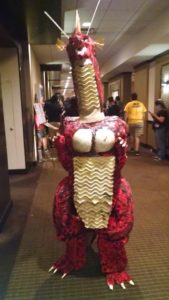 I am so grateful to Aileen for letting me into her family, for giving me the opportunity to tell Dad jokes while driving a gas-guzzling SUV down the hot and crowded highways of post-modern America, and experience a family vacation with all its tensions and dramas and excitement and joy. I've been alone most of my life, and I feel like I've missed out on much of what life has to offer, a fate for which I am fully responsible, since it all came out of choices I have made.
But I look around, and see how lucky we are to be alive right now. Our generation is at its peak in life, and we are making our mark in entertainment and in business and in politics, and it's messy and it's scary, but that's just how my generation grew up to be, so we'll just have to go down the road and see where it takes us. As my career continues to ascend, new possibilities open up for a life the feels like it has only just begun.
This is why I vacation like I'm running out of time, 'cause there's a million things I haven't done. But just you wait.