Reunion, or "Happy Birdeversary!"
Reunion, or "Happy Birdeversary!"
As mentioned in a recent post, where I reviewed a book by a Gen X author, the girl and I went to our 40th year high school reunion at the end of September. Another milestone in this year of milestones.
I had been resisting going, since we already went to our 30th reunion in 2013. I mean, that was how Aileen and I reconnected, a story which has been partially revealed in this blog. Was there any reason to go back again, now that our own personal tale of reunion was complete?
But one of our classmates, Melanie, kept asking us about going and hanging out, and in the end we relented. It was too late to get a ticket to the main reunion event, which had sold out, but we could still show up at the informal events, and even hang out at the bar at the restaurant where the main event was, and meet up with people.
We got there on Friday, in time to join the homecoming parade, in which we marched, along with Melanie and about a dozen of our other classmates. I should mention that this was in Reston, Virginia, where Aileen and I met when we were teenagers, and that our school is South Lakes High School.
This was the first and only time in my life that I was ever in a parade. Our class was close to the front, after the marching band. Notably, our class of 1983 was the first one to fully occupy SLHS for all four years of high school, since the school was founded in 1979. So I guess that makes us kind of special, like we are the first ancestor generation of SLHS graduates.
As we walked the 1.8 miles from the starting location to our high school, the spectators lining the road cheered us on, often expressing surprise and delight to see graduates from so far back in time. "We're old, but we're still going!" we let them know.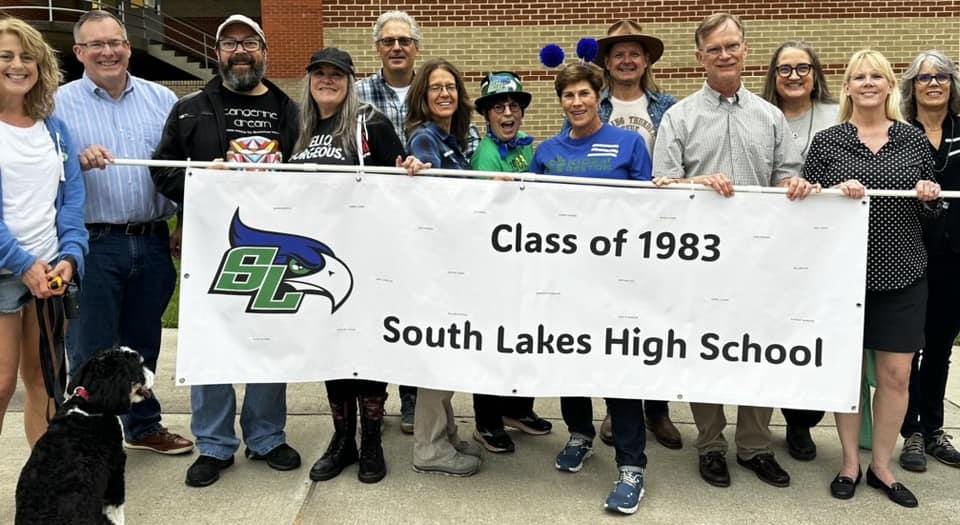 You might recognize me and Aileen there on the left, wearing the caps. Melanie is in green in the center, and our two classmates who did the organizing to get us all together, Kathy and Sarah, are on the far right.
Not everyone from our class is still alive, naturally. To honor those who have passed away, their names were added to the banner. In that way they could march with us.

---
After the parade, we went to a restaurant in Reston at Lake Anne Plaza to meet up with even more of our classmates. On the way, for fun, we drove by the house where Aileen used to live, and where I would frequently go to visit her, in our high school years. It looked very much the same, though we did note that there were a lot more cars than we used to remember in the neighborhood, which seemed a little rundown. It could be that the neighborhood is just old, like we are, or it could be that we remember it through rose colored glasses.
Reston is an interesting place. It was founded in 1964 as a "planned community," meant to embody a new post-war ideal of land use that included ample green space, with room for both residential and commerical zones to develop in tandem, as well as room for both pedestrian and automobile traffic. With lots of walking paths and wide roads through wooded areas, and residential neighborhoods intermingled with commercial plazas, it's sort of a middle-class consumer car culture utopia.
Having been founded around the time I was born, Reston is about my age; about the same age as everyone in my high school class, in fact. With its dated architecture of buildings and houses constructed during the Gen X childhood era, this town feels like a creche built just for our generation.
I remember it well from my teenage years. As we drove through town on our way to Lake Anne, I admired how nice Reston still looks, even as it evoked this nostalgic feeling. "I could move back here," I told Aileen. But that is a highly unlikely scenario.
---
As it turned out, Aileen and I were able to get into the main reunion event after all, as not everyone who had reserved a spot was able to come. This happened on Saturday evening, in an events room at a nice restaurrant. I believe there were about 90 people attending, and the space was a bit small, so it felt crowded. We were a fairly large class; almost 400 people, and for a quarter of them to show up for the event is impressive, in my opinion. And many who couldn't make it commented on the Facebook group, participating in spirit.
I had a great time, and very much enjoyed the feeling of solidarity with my old high school class. Many of the people from the 30th reunion in 2013 were there, and those are the folks I remembered the best. Back in my school days, I was kind of on the periphery, and honestly didn't know most of my classmates. I hung out with the freaks and geeks, with the punk rockers and the stoners, who probably mostly didn't show up for this occasion. If you're from my class and don't remember me, well that's OK. It was so long ago, after all.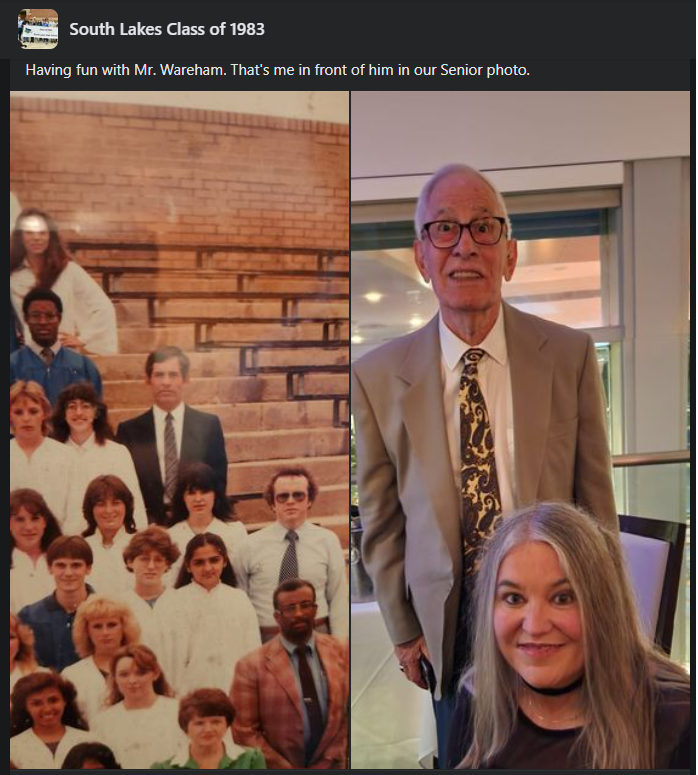 Our old high school principal, Mr. Wareham, was there! He is 84 years old. We chatted briefly, though it was hard to understand him in the noisy space. I learned that, after retiring from South Lakes, Mr. Wareham took postings overseas so he could travel the world. There was something comforting about his presence at the event, like it established a continuity with those distant but formative school years. And it helped me feel less old, knowing that an adult who was an authority figure in my late childhood is still alive.
I can't deny, though, that going to your 40th high school reunion will make you feel old. We're all deep in middle age now, many of us with adult children, divorces and remarriages, on their second careers or even retired already. Where did all those years go?
And yet I can attest that at a reunion, as was also the case ten years ago at our 30th, it feels very much like you are back from where you started, with all those same people you grew up with. It's the same peer group, with the same social relationships, and the same personality types. No one's really changed all that much. You've all just grown older.
As I said, we had a great time. Lots of pictures were taken, we enjoyed some food and beverage, listened to 1980s music, and had some good conversations. Late in the night we said our goodbyes. I have a feeling we will be back for the 50th in 2033, or the 45th in 2028, should that come together.
---
In retrospect, I thought that the 40th reunion felt more chill than the 30th, like we had all mellowed out a bit. The energy at the 30th was more hyped, with more anxiety and anticipation in the air. Maybe because we were all in our 40s instead of our 50s. Maybe because it had been a longer time (even longer than 10 years) since we had last seen one another.
The 30th reunion was the event in which Aileen and I reconnected, when I was still living in North Carolina. We had known each other in school, were very good friends, and dated when we were in college. After our mutual breakup which was totally mutual, we stayed in touch, and saw each other a few times in the 90s. But we didn't see each other in the 2000s, not until the reunion in 2013.
Back then, we had recently connected on Facebook. It's a common enough experience for Gen Xers to have reconnected with their old school friends on that site, and sort of gotten a fast forward catchup on everything that happened to one another in the past twenty years, before there was social media. Aileen, for example, now had two sons. I had a house.
In 2013, Aileen kept sending me posts and messages, asking me to come to the reunion, until I finally relented. When we met up during the day, before the main event, it was like we had never been apart. When I looked at he face, I saw the girl I knew thirty years earlier. It was October 19, the same day that I'm writing this, and we went to a matinee of Alfred Hitchcock's The Birds, and just enjoyed one another. We still call this day our "birdeversary." At the reunion event, we danced together, had a wonderful time, then went our separate ways.
The next year, I called Aileen on her birthday. From that point on, our relationship just kept building. We started visiting each other, and then, as you may know, in 2018 I sold my house in North Carolina, moved up to Pennsylvania, and now live with her in her house.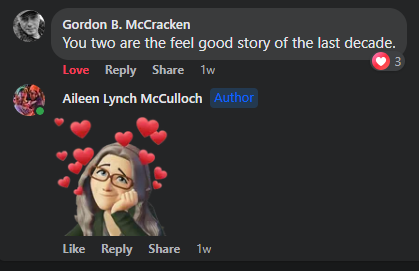 This whole story was news to some of our classmates at the 40th reunion. But at least one of them was tracking, and had some kind thoughts to share about us. He called us the "feel good story of the last decade."
It does feel good to be reunited, to be connected and in a family. I honestly think that I would not be in a healthy place if I had stayed single and alone in my house in North Carolina, though I do miss the area and the friends I made there. And though I was mostly comfortable in solitude, a voice inside me was urging me to get out and find someone, and luckily, Aileen found me.
Staying connected, even if only through a support network of trusted friends and family, is crucial to your well-being. It leads to better outcomes in life; I know it has for mine. It is in being together with others that we ensure a happy future for ourselves.