Strategy Review: Brave New War
Strategy Review: Brave New War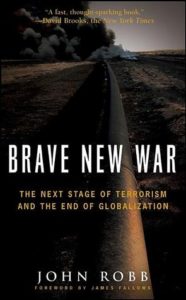 In my most recent posts I looked at the strategic theories of two different authors. The first was Thomas P. M. Barnett, who divided the world into functioning, integrated Core states, and their danger-producing opposites, the Gap states. His mantra was "disconnectedness defines danger." The second was Philip Bobbitt, who divided history into epochs in which different forms of the state ruled. He taught us that the nation state is on its way out, and the new market state is taking its place.
John Robb is an author who actually references both of the previous authors, in his book Brave New War. He springboards off of Bobbitt's concept of the market state to argue that the nature of warfare has changed, becoming network-focused, and refutes Barnett's mantra. Basically, in the globally networked world, connectedness defines danger, so good luck finding peace through integration. Better to develop doctrines of fighting networked war.
A war fought between social networks is exactly how Robb portrays the current Crisis Era in American politics. He calls this "open source warfare" in that anyone can participate in an era when the Internet gives individuals powers of surveillance and intelligence gathering that were once reserved for governments. You can follow more of John Robb's analysis of current events here at his blog.