The Mighty Starmites Are Coming to Pottsgrove, PA
The Mighty Starmites Are Coming to Pottsgrove, PA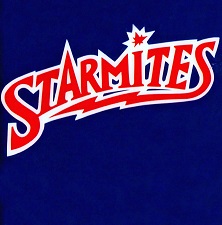 The last show that the Vagabond Acting Troupe put up before Aileen merged the company with another theater company was the musical Starmites. This was also one of the first of her shows that I saw after we got together around 2014. Her company used to put on shows in an old church that was out in the country, but since they left the building was torn down.
I remember how enchanting the show was and how impressed I was with the production values and with the talent of the kids. This show was done with kids and young teens! And it's a tough one, too, with complicated songs with challenging harmonies.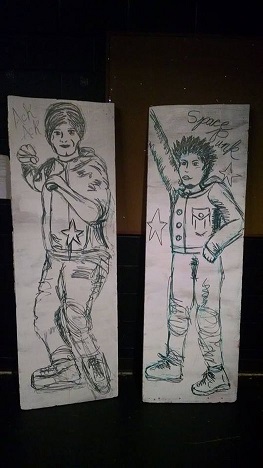 Challenging kids to take on difficult work and discover their power to get it done is Aileen's specialty. It's what makes her such a great educator. There's even a quote from this show that is apropos: "to a Starmite there is no such word as can't."
What is a Starmite, you might ask? Well, they're kind of like a superhero. They kind of live in an imaginary world in a girl's mind, called Innerspace, and they help her to find her courage and unleash her full potential. So maybe they're a real part of her, inside?
Do we all have a superhero dwelling in our inner space? Yes, and that is essentially the message of the show. You have to dig deep inside yourself to find them. That's what Aileen has been doing with young people for her entire career, which is why this is one of her (our) favorite shows.
Another reason Aileen likes this show is because it has a lot of great parts for actors to play. It provides opportunities for many individuals to stand out with a special character, and has multiple strong supporting roles. That's important for Aileen, because the point of her shows is to be inclusive and give everyone who auditions a chance to participate.
Why have you never heard of this show? Well, it's not often done. Possibly because it's so challenging, or because it's so nerdy. Aileen thinks it needs better marketing. It's hard to tell from the title that it has a comic book superhero theme. Since those are big these days, maybe it would get more press if it were subtitled "A Superhero Musical."
Why do I bring this up? Because Aileen is doing the show again! The same group of teens that she did Chicago with last summer asked her to come back for another summer production, and they picked this show. I'm really proud of her for continuing to shine as a theater educator, in spite of the troubles these past couple of years have brought.
The show is going up this weekend at Pottsgrove High School, which is in Montgomery County, Pennsylvania, to the northwest of Philadelphia. Below is an article about it in the local paper.
This blog is probably not the best promotional platform in the world, but on the off-chance that one of my two readers other than my Mom is in the area, you should think about getting a ticket! You can do it at this link:
https://search.seatyourself.biz/webstore/accounts/theartsbubble/buy-tix