Millennials Rock
Millennials Rock
One thing I love about Vampire Weekend is that the two leads who formed the band are Jewish (Ezra Koenig), and of Iranian descent (Rostam Batmanglij). It's like they represent the great hope of America – that people of all origins, even countries which are geopolitical enemies, are recognized for their common humanity and given equal opportunity to pursue their happiness. And what more American way to pursue happiness than to form an indie rock band?
If you haven't heard them, you should check them out. They're one of the best of the rock bands that the Millennial generation has produced. And considering how many generations of rock and roll there have been, they have a lot to live up to – I mean, all the great classic rockers are from a few generations before. Now, Rostam has recently left Vampire Weekend – on friendly terms – which means he wasn't there when we got to see them last week.
Yes. that's right, I was really just posting this to humblebrag about attending a hip indie rock concert with my BFF and her son. It was at the Mann Center in Philadelphia, and the crowd was huge, and energetic, and twenty to thirty years younger than us. We paid $10 for cans of beer and stood up and danced and were up way past our bedtime.
The opening act was the very talented blues guitarist Kingfish. He played old school rock with virtuosity, like a reincarnation of Jimi Hendrix. I actually felt like I had been transported back in time to Woodstock. This guy is only 20 years old, so he is a prodigy.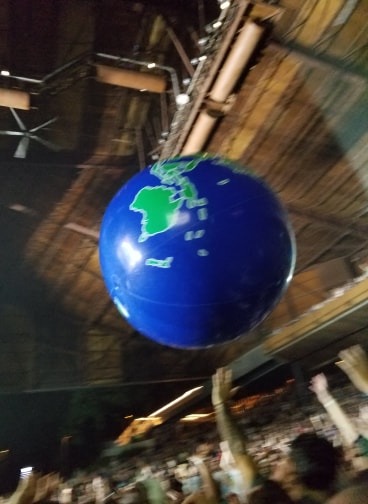 When the main attraction came out, the crowd leaped to its feet. The band kept the energy going through a long set, which included old and new material, as well as a couple of covers.
I must have looked foolish – a fiftysomething man bouncing around like he thought it was 1989 and he was at a Grateful Dead concert – but I didn't care. For the encore, the band took requests, and the crew threw a couple of big inflated balls into the audience for us to toss around. It was so much fun.
As for the music, well, the way we see it, the songs of Vampire Weekend are all Millennial anthems. They perfectly capture the zeitgeist of their generation – anxious, questioning, dissatisfied with adult life after being raised with high expectations.
The chorus from their latest hit says it all, I think. When I hear it, I hear the Millennial generation's disappointment in the corruption of the institutions run by their elders. They long to make the world a better place. But for now, all they can do is sing.
And the stone walls of Harmony Hall bear witness
Anybody with a worried mind could never forgive the sight
Of wicked snakes inside a place you thought was dignified
I don't wanna live like this, but I don't wanna die

Vampire Weekend, Harmony Hall