Halloween scare (or not)
Halloween scare (or not)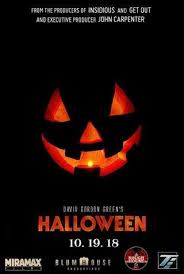 It was awesome to see the new Halloween sequel on Halloween night, because the movie is set exactly then – 10/31/2018, forty years since the original movie's horrors on the same date in 1978. The movie was good – exactly what you'd expect, and with the same awesomely creepy music.
We were two adults and one teenage boy, but the boy wan't worried about being frightened. As he explained to us, he never gets scared by horror movies. We adults both recalled that we did get scared (I remember having nightmares over the Frankenstein monster), but perhaps the young generation is hardened now because of all the exposure to violent entertainment from multiple media sources.
Or perhaps, I speculated, we've all gotten so used to mass murder in real life that it is impossible to find it shocking or frightening at all. Which turns out to be exactly the point made by one of the teenage characters talking to his friends in the movie. The babysitter murders of 1978 just seem so mild and quaint to the teens of Haddonfield, Illinois in 2018, who might reasonably anticipate being shot up in school on any random day.
I won't say any more about the film except that if you are a franchise fan, you will find this one to be a satisfying sequel. I can't personally compare it to the other sequels, since I have not seen any of them, but the buzz on the Internet seems to be that it is the best of the lot. This is probably because, while it has many updates appropriate for the times, it stays true to the feel and form of the original.