A Commute in America
A Commute in America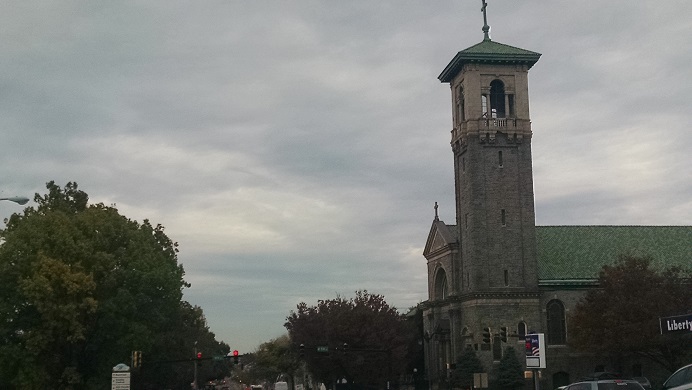 Pictured above is St. Paul's, a 150 year old Catholic church located in Wilmington, Delaware. I used to drive past it every day on my commute to work. Between the exit ramp off the highway and the commuter lot in the commercial district where I worked there were a few blocks of gritty urban neighborhood to drive through, with this church planted in the midst of it, like a watchtower, or a fortress. This quick drive by provided a glimpse of a world unlike either the one I had just left at home, or the one I was traveling to at work.
There might be someone at the bottom of the ramp, begging with a cardboard sign, despite the posted warning of a fine for solicitation. A homeless person might be visible camped under the highway overpass (just to the left in that picture) – a figure seated amidst a jumble of bags and tarps, maybe with a shopping cart. Just down the street from the church there was a ministry which one must assume served food, given that there would sometimes be a long line of people at the door.
This was America, or a part of it anyway. These were Americans, of all colors and ages, though it seemed they were disproportionately older. But maybe I was just seeing the ones like me. Wondering if I could handle being my age – early fifties – but impoverished, desperate for a handout. And then I would park my car in the lot, and get on the shuttle bus that drove me to the office, and the bus would be full of people who were mostly young and mostly Asian. I would feel conspicuously out of place, a middle-aged white guy who was apparently on a different path in life than most other middle-aged white guys.
Of course, in the Asian countries my coworkers were from, there are teeming masses of poor people – people even poorer than the ones whose world I briefly became a part of during my commute to Wilmington. I just didn't see them, because they were not the ones granted visas to come to the United States and work cushy tech jobs. And of course there are plenty of Americans my age prospering as well as I am, or better. I just happen to be in a field – finance tech, data warehousing – whose workforce is primarily Indian. India has reaped the reward for educating so many of its youth in the field of information technology.
The United States, meanwhile, is going to bring back manufacturing using trade wars. And tighten its grip on fossil fuel extraction. As far as I can tell, that is the current strategy for expanding economic opportunity for its citizens, which is the role of government in this new age of neoliberalism. I wonder, though, what kind of opportunity will be provided for the poor people of Wilmington.
Some voters thought Trump was going to bring an end to neoliberalism, except he's a charlatan – a crook and a liar. How could they not see that? I wonder if any of the people I passed on my commute even vote at all. If not, as seems likely, then they get no representation in government anyway. How will any opportunity be created for them in this age of the market state?
Joe Biden for President, I guess.