Subreddit of the week: Schizophrenia Rides
Subreddit of the week: Schizophrenia Rides
In the movie Forrest Gump, about a Baby Boomer who is there for all the iconic moments of the Baby Boomer life course, there is a scene where the main character plays a part in the story of the rise of the bumper sticker.
It's a fun moment that ties into the movie's theme of touching on the milestones of late twentieth century history. And the proliferation of bumper stickers and window decals as a form of personal expression was indeed such a milestone. It coincided, I believe, with a parallel proliferation of personal expression on the fronts and backs of T-shirts. It came with an era of rising individualism.
The heyday of the bumper sticker was the 1980s and 1990s, right after when this scene from Forrest Gump is set. It was a time when people proudly displayed their opinions, attitudes, political affiliations and cultural preferences on the rear ends of their automotive vehicles – in colorful, and sometimes confrontational or offensive ways. A drive on a crowded highway would have given you ample opportunity to learn about the beliefs and personalities of the other drivers all around you.
In the 2000s the bumper sticker frenzy started dying down. In particular, displaying political support on one's vehicle has become passé. It was still done in the 2000s; there was "W" to show support for President Bush, and "Hope" to show support for President Obama. But since the 2010s, it has become very rare. I think people have gotten fearful of displaying partisan loyalty in public, as the rancor of partisanship has gotten worse.
Some iconic stickers still linger. "Coexist" marks you as a believer in diversity, and "Salt Life" as someone who likes the beach lifestyle. A set of decals on the rear window identifying one's family members remains popular. But these days, you will find that most cars either have nothing displayed, or innoffensive badges of loyalty to sports teams, schools, churches or civic organizations.
And then, there are vehicles like the one below, which can be seen driving around in the town where I live.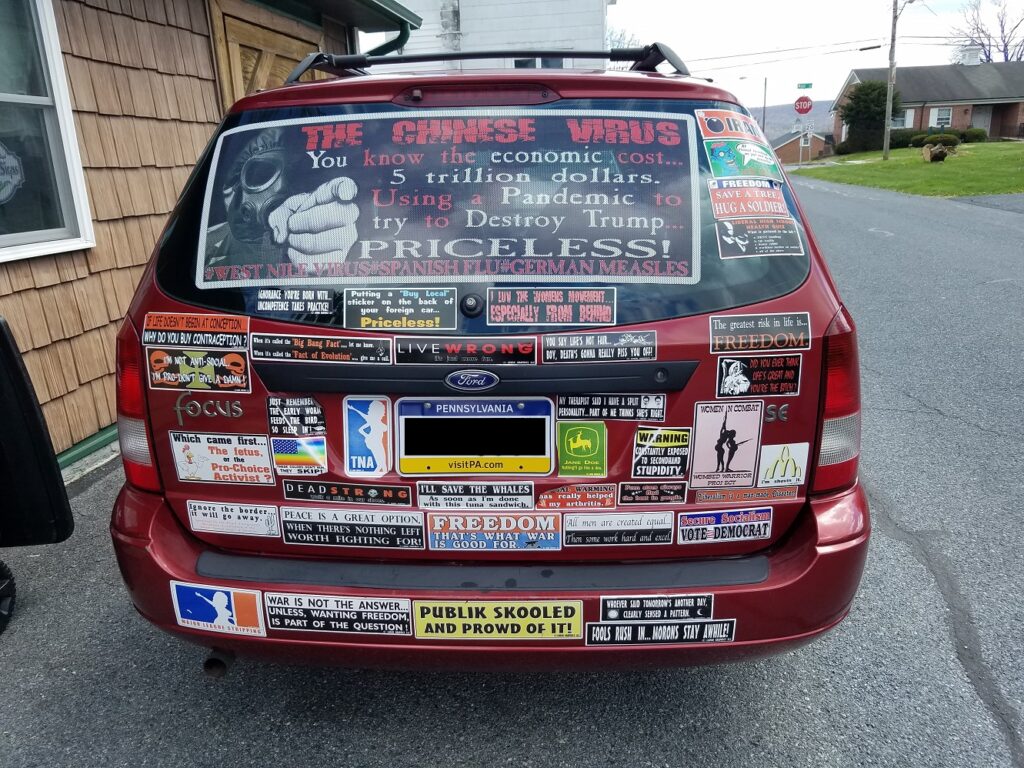 These days, if you plaster your vehicle with bumper stickers, it may end up featured on the subreddit /r/SchizophreniaRides, dedicated to showcasing and making fun of drivers the Internet assumes must be a little bit insane. I mean, what is going on in the mind of this car's driver? They don't like liberals and Democrats, support the current President with one gigantic sticker, but also champion strippers and sport a rainbow flag? I guess it shows how much values have shifted and what an – uh – interesting coalition the current administration has behind it.
It's not just bumper stickers that will get you featured on /r/SchizopreniaRides. Any ostentatious display on your set of wheels will do it – the more out there on the fringe, the better. Here are a couple more examples from my neighborhood. I guess there must be something about Berks County, Pennsylvania.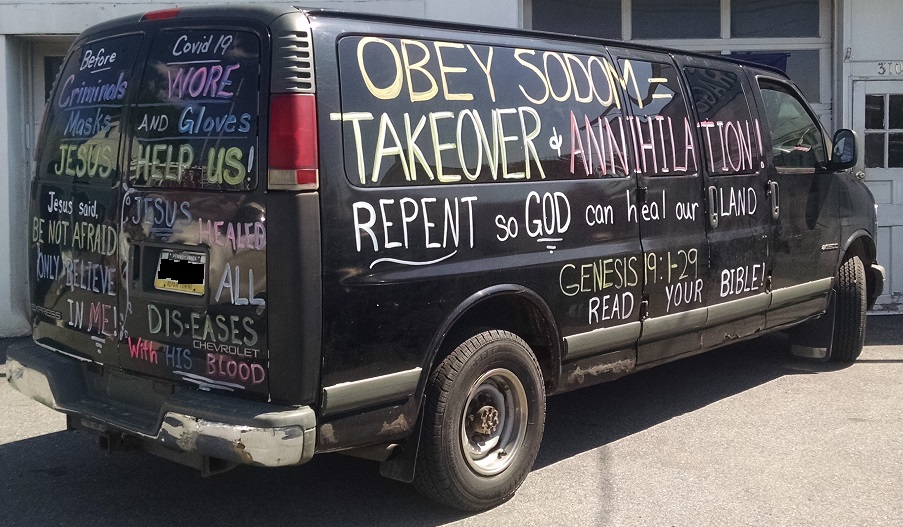 Freedom of expression is a wonderful thing. There is nothing wrong with displaying your opinions on your car, so long you don't incite violence, and you can pass a safety inspection. But these days, personal expression has moved out of the public space in real life, and onto the Internet. Online, people can remain anonymous if they like, or confine themselves to a safe space of likeminded others.
If you do insist on sharing your worldview in the old fashioned way of twenty years ago or more, well, kudos to you for your bravery. But just keep in mind that you might get featured on /r/SchizophreniaRides.