Space Force: A TV Show for the Age
Space Force: A TV Show for the Age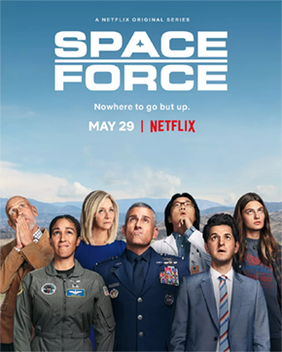 The family and I really enjoyed watching the Netflix comedy series Space Force. It's a great vehicle for Steve Carell, with his gift for playing lovable losers. Though in this show he is not so much a loser as "the man for his time and place" who "fits right in there," to quote a mysterious stranger. In the case of Space Force, the time is now and the place is at the head of a brand new branch of the United States military. And Carell's character, General Mark R. Naird, has the right stuff for this challenging job.
One thing I like about the show is that it is very topical. It is the only consciously Trump Era fictional television series of which I know (still waiting for a COVID-19-conscious sitcom). The President is even a character, though we only know him in the form of texts and Tweets from "POTUS." General Naird has just the right mix of sincerity and guile to handle this unpredictable boss, as well as his peers in the other military branches, and the competitive space efforts of America's great rival, China.
To balance against Carell's typically understated performance, John Malkovich provides a more animated supporting character, Chief Scientist Dr. Adrian Mallory. If you are a fan of Malkovich, which we are, you will enjoy him in this role. Since this is on streaming video, there is ample opportunity for him to exploit his propensity for foul language. Just another example of how TV has changed since my childhood. The rest of the supporting cast also provides solid performances.
Space Force is completely farcical and makes no effort to be realistic in terms of the science or engineering of space exploration. There's an irony to the depiction of the easy accomplishments of this fictional organization, in contrast to the actual state of the U.S. space program. It's like the show is satirizing what the ignoramus-in-chief thinks the Space Force is capable of doing. Like it's set in his imagination.
I suppose you could argue that the TV show Space Force normalizes the current administration and its feckless ways. Maybe it's even a little sympathetic to it, so as not to alienate Trump supporters, who surely make up a substantial portion of Netflix subscribers. Arguably the show also normalizes the idea of inevitable Sino-American conflict. These are dangerous times, and perhaps we shouldn't be making fun of these things.
With that in mind, it's no surprise that no one has announced a new comedy TV series set in the COVID-19 era. But I would welcome one. Humor is cathartic, and helps us to process the difficult realities of life.
So check out Space Force and enjoy the show. One season is available on Netflix, with no word yet of a second season.