Silent of the Year – Joe Biden
Silent of the Year – Joe Biden
The Silent Generation (b. 1925-1942) is known for never having produced a United States President. Every other generation older than the Millennials has, even mine, Generation X (b. 1961-1981). There have actually been more Silent candidates for Vice President than for President – 7 vs. 5, and that's counting Ross Perot (b. 1930). The Baby Boomers (b. 1943 – 1960) reverse those numbers. Now I suppose you could consider Dick Cheney (b. 1941) to have been the power behind the throne in the Bush era, but even that demonstrates how Silents like to influence the world – from 2nd place.
Rather than being in the forefront of public life, the Silent Generation has preferred to work behind the scenes, in the role of helpmate or enabler. Early in their collective careers they served an older generation, the GI or Greatest Generation (b. 1901-1924), refining the powerful institutions created in their elder's climactic World War II-era coming of age. Later in their careers, they mentored the younger Boomers, joining their energetic juniors, in a guiding role, in the mission of transforming the values of American society.
The last time a member of the Silent Generation was a major party nominee for president was in 2008, when the late John McCain (b. 1936) ran against GenXer Barack Obama. To find another example, you have to go all the way back to Michael Dukakis (b. 1933) in 1988. That's not to say that the Silent Generation isn't politically powerful; as I noted in an earlier blog post, they are still prominent in the U.S. Legislative Branch. They just don't tend to take on the role of Chief Executive.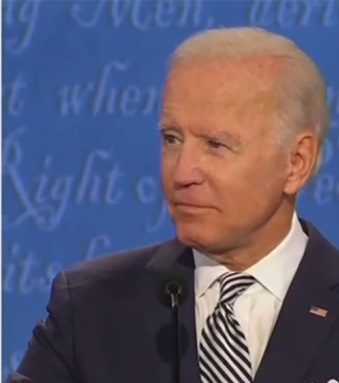 That takes us to Joe Biden (b. 1942), who has already served in the executive branch for eight years, in the background during the Obama administration. I have to admit that I wasn't excited when he announced that he was seeking the Presidential nomination, and even made fun of him a little. That was way back when the field was full of candidates, some of whom aligned closer to my beliefs. That feels like another age (it was, what, January?)
But here we are, near the end of 2020, the most traumatic Crisis year in almost everyone's living memory. Most of us, including me, are disgusted by the callousness and corruption of the incumbent President. We're ready for someone to restore duty and honor to the office, and Joe – a man who has known loss and grief – is just the right guy to lead a traumatized nation.
For stepping up in our time of need, and for possibly becoming the first member of his generation to be elected to the highest office in the land, I hereby declare Joe Biden to be the Silent of the Year.