Review: Heroes of the Fourth Turning
Review: Heroes of the Fourth Turning
I have been a student and fan of the Fourth Turning theory for over a quarter of a century. Imagine my surprise and delight when I learned that a play which incorporates the theory is running off-Broadway. It's called Heroes of the Fourth Turning, written by Will Arbery and directed by Danya Taymor. I got a ticket for it as soon as I could, and luckily my BFF was able to come along as well. It's premiering at Playwrights Horizons, which is basically a development house supporting playwrights and producing new works.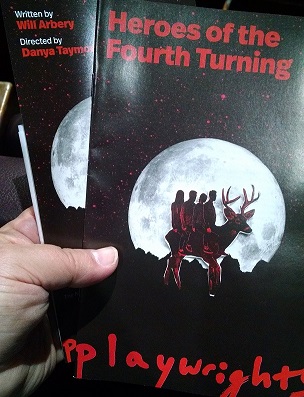 Since I am so interested in the aforementioned theory, I wanted to review not so much the play itself as how it presents and incorporates the Fourth Turning concept. So I will be looking at the play through a soda straw, so to speak. But I will start with a brief summary review from a general perspective.
The play we saw is an excellent production. It's well written, well directed and well acted. It has one long act, entirely set on the back porch of a house in Wyoming, on a very specific night in the year 2017. It has great tech too, with the set design and dark lighting pulling you into a setting that seems very real.
There are only five characters, and the premise of the play is that four of them are from the same college class and are reuniting seven years after graduation. Their dialogue establishes their characters, the tensions between them, and reveals secrets from their past – good dramatic stuff. The fifth character is their former teacher/mentor, who arrives later in the play to add a little generational conflict.
The Fourth Turning idea comes into the script because one of the Millennial graduates is familiar with the theory. She explains it in detail in an animated monologue, which absolutely amazed me to behold, seeing as I've been interested in generational theory for so long. I certainly never expected to see it explained one day on stage in New York City.
Now this character knows about the theory thanks to Steve Bannon, which is possibly how many people first encountered it back in 2017. And she's interested in Bannon's ideas because she is a conservative Catholic and a Trump supporter. In fact, the college the four graduates attended is a conservative Catholic institution – so the play ends up being a kind of exposé of the Red State perspective. We can see why it is set in Wyoming.
The director's notes mention that the play is meant to shine light on how people on this side of the political spectrum think, but not necessarily to empathize with them. Judging from their reactions, the audience did not approve of the characters' beliefs at all (at least that was my impression). The conservative stances on abortion and LBGTQ seemed particularly upsetting. Of course, this is not surprising coming from an audience in New York. The promotional material makes a point about how this show is giving a perspective not usually presented to theater audiences.
The playwright, Will Arbery, actually comes from a conservative, Catholic background himself (though he makes clear in his notes in the program that he voted for Obama), which I guess is why he was motivated to write about the subject of conservative thought. It's kind of a weird twist of fate that the Fourth Turning theory is associated popularly with the political right, seeing as it could just as easily be applied in a story about supporters of Bernie Sanders.
It's understandable why a theory about a cyclic return to civic renewal would appeal to a minority group of beleaguered traditionalists. Kudos to Will Arbery for making that connection. He also incorporates the idea of different generations – one of the graduates is a Gen Xer, since he is ten years older than the others, who are Millennials, while the professor is a Boomer who was a Goldwater girl, like Hillary Clinton. It's the Millennials who are ostensibly the Heroes of the play's title, and whether or not they are ready for the challenge of the Fourth Turning is for you to decide.
Heroes of the Fourth Turning is a brilliant play. If you are interested in what a play could have to say about generational theory, or what it could reveal about conservative politics in the Trump era, or just want some good character drama, it is worth seeing. You'll have to hurry, though – it's only up through November 17. I hope it finds another venue because it is a wonderful work and very pertinent to our time.