Everything changed so fast
Everything changed so fast
Time moves fast in a Crisis.
I remember back when 2019 was coming to an end, and everyone on social media was posting retrospectives of the 2010s. There was this exciting sense of being there for the end of an era. I even participated by Tweeting a list of my favorite streaming shows, since I saw the rise of streaming on-demand television as the decade's big story in the media and entertainment space.
When 2020 began, I had plans already lined up to hit the many travel destinations I like to visit periodically. I don't know why, but I felt this compulsion to do it all as soon as I could. It was like I wanted to start the new decade right.
I went down to North Carolina, where I used to live, and attended a gaming convention with my BFF. That was in January. In February, we went to Washington, D.C. and visited my mother and sister. We also went to New York and saw two shows, as well her best friend from high school days. By then, the novel coronavirus was in the headlines.
At the very end of the month, I went down to Virginia to play Magic: The Gathering with old friends that I have been playing with since the 1990s. It was a fun get together after a year apart. We were making jokes about the coronavirus.
As March began, I looked forward to the high school theater season starting up, since my BFF and I attend performances as part of the Philadelphia Independence Awards. By then, the severity of the novel coronavirus contagion was becoming apparent. There was talk of shutdowns. The company where I work had a WFH day as a drill.
We ended up seeing one Independence Award show, and it was a dress rehearsal because the actual performances were cancelled. The last large gathering we attended was a funeral. We thought about maybe not going, but we wanted to pay our respects to a friend who had died tragically at too young an age. The funeral was attended by hundreds of people.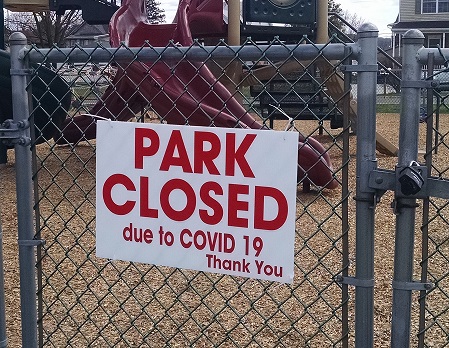 Since then we've been in lockdown, only leaving the house for grocery runs, or to go on walks in the neighborhood. Everyone at my office is working from home. I know that I am very lucky to have that opportunity, because many others are out of work and with no prospects.
All that travel and activity in the recent past seems like it might have been too risky. Especially the trip to New York. We actually came down with colds when we got back from there. Did we have it? I don't think so, but we can't be sure.
What now? The future looks ominous. I had all these ideas for blog posts lined up, but now they don't seem relevant. Everything changed so fast. I'm glad I got all that travelling in at the start of the year, since it looks like that might be the last of it for the year. Personal, private life will be slower for awhile, even as events in the outside world move faster and faster.
Exactly what you'd expect in a Crisis Era.