Subreddit of the Week: insaneparents
WARNING: This post contains spoilers for the movie The Shining.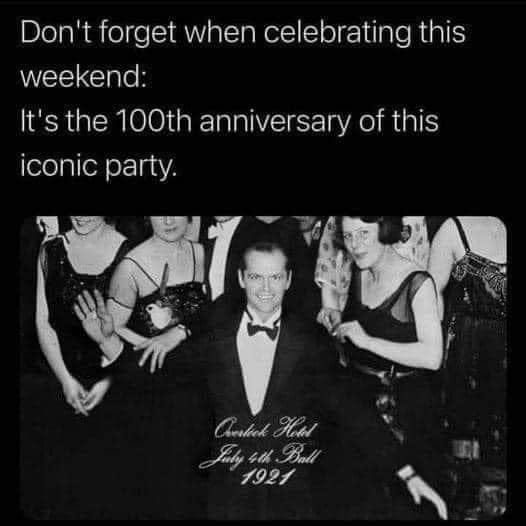 You may have seen the meme that Independence Day 2021 was the 100th anniversary of a famous fictional event: the 1921 July 4th Ball pictured at the end of The Shining. The event is depicted in a photograph that mysteriously features a younger version of Jack Nicholson's character, Jack Torrance. In celebration of this anniversary, our family decided to watch the movie on the night of July 4th, even though we've all seen it multiple times, it being an excellent and iconic example of the horror genre.
The highlights of the film are Nicholson's creepy, expressive performance, and the tense, suspense-building score which is artfully synchronized to the action. The camera work is great, too, and the film shows how much emotion can be generated just from pacing and music, with slow buildups to cathartic release. The strings slowly rise, and then the axe suddenly falls, and the viewer's heart skips a beat. But frankly, the film is a little light on story, of which there is much more in Stephen King's book. The sequel movie from 2019, Dr. Sleep, drawing more story from the novel which it adapts, is a supernatural horror action adventure with a much richer plot.
In The Shining, Jack's son Danny is played by Danny Lloyd, who does a decent enough job of portraying a harried Gen X kid dealing with less than ideal parenting, not to mention bizarre otherworldly events. Here's the scene from the end of the film where he escapes his deranged father. Note his inventive survival skills. That really marks him as a Gen Xer.
When I watched this scene, I couldn't help but imagine how it would look as a post on the subreddit /r/insaneparents. Something like, "when I was a kid, maybe about 10, my Dad chased me through a snow-covered hedge maze with an axe – he really wanted to kill me, I'm not joking – but through some misdirection and careful hiding I managed to escape him. Never saw him again after that, I actually think he might have died that night. Can't say that I miss him, but I will say that the experience really made me who I am today…"
If you don't know about this subreddit, it is basically a place where people go to share the bizarre and unwholesome parenting behavior they have experienced. I imagine that most of it is Millennials calling out their Boomer and Gen-X parents; one can never be sure since reddit is mostly people posting anonymously. It is possible that older posters are bringing up their long ago childhood experiences, or that Homelanders (the post-Millennials currently in their early teens) are already sharing their own victim of parenting horror stories.
I imagine that this is mostly a subreddit for Millennials not only because reddit itself was founded by Millennials, but also because Millennials are champions of Internet reviews. It all ties into Millennials' collective peer personality, which seeks rational consensus on the best choice. Here's a post on LinkedIn that shows what I mean. More and more, choice in the marketplace is driven by communal decision making, rather than personal preference.
As this generation has risen into adulthood, they have helped drive the proliferation of reviews on commercial web sites like Amazon and on web directories which also function as review sites, such as Yelp. As students in higher education, they have access to resources to rate and review their educators – why shouldn't they know ahead of time if a professor's class is worth taking, or be able to give their feedback after taking a class? In a way, the subreddit /r/insaneparents is just a site for reviews – albeit anonymous ones – of parents.
Parenting, I believe, is the hardest job in the world. Everyone is expected to do it, but the only training anyone gets is a bad example. Since not everyone makes the strongest parenting choices, you get a subreddit like /r/insaneparents. So parents out there, do try to raise your children well, or you just might end up getting a bad review on the Internet.